The Trotternish Peninsula
Iochdar Thròndairnis … Thronda's headland
Situated off the west coast of Scotland is Skye, the largest island in the Inner Hebrides. The Raasay bàrd, Sorley Maclean, called our island "the great beautiful bird of Scotland". Our home is the Trotternish peninsula, in north Skye, and its townships of Staffin, Kilmuir, Uig and the district of Kensaleyre and Borve. We have 1,400 people in the Trotternish peninsula. Some of our clans and families have been here for 1,000 years - a thousand summers and a thousand winters of rural stewardship, of working the land in harmony with nature. So with one millennium already under our belts, the tenants of Trotternish clearly know a thing or two about sustainability!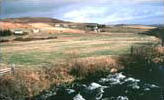 A healthy community is one that invests in its assets. We have one of the strongest forces of Gaelic speakers in Scotland; the beginnings of community ownership in crofting; some of the best hill walking in Europe; significant numbers of globally endangered corncrakes and protected areas which testify to the quality of our natural heritage; Britain's most important dinosaur discoveries and crofting, which supplements the family income, provides a home and holds precious folk memories.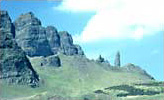 As we say in our brochure, "we've got it all in the Trotternish peninsula". But our assets aren't being nurtured in the way they should be. For several decades now we have been a forgotten place – somewhere that has lacked serious investment. Take our young people. Why are they leaving? Because of the struggle to find meaningful, year-round employment here, where seasonal tourism is the main industry. Because of the struggle to put an affordable roof over their heads, where 14% of houses are holiday homes. Agricultural decline, poor transport links, lack of facilities: all require to be tackled. The challenge to reverse the mindset among local young people from "there is nothing for me here", to "everything I want is here".
Sustainability is ultimately about confident communities and that means that we, the local people of Trotternish, must exercise our right to plan the future of our own communities. The role of local people in doing this with Dùthchas has been inspirational.
Ag obair còmhla ri chéile ann an Iochdar Thròndairnis
Dùthchas has been sowing seeds of sustainability in the Trotternish peninsula